Hailing from Toronto, SoulheavY have just released their debut album on all digital platforms. Not content to play small local gigs forever, the band are actively chasing radio play and fans right around the world – with a busy year ahead, I pinned each of the guys down for a chat about the state of the SoulheavY camp.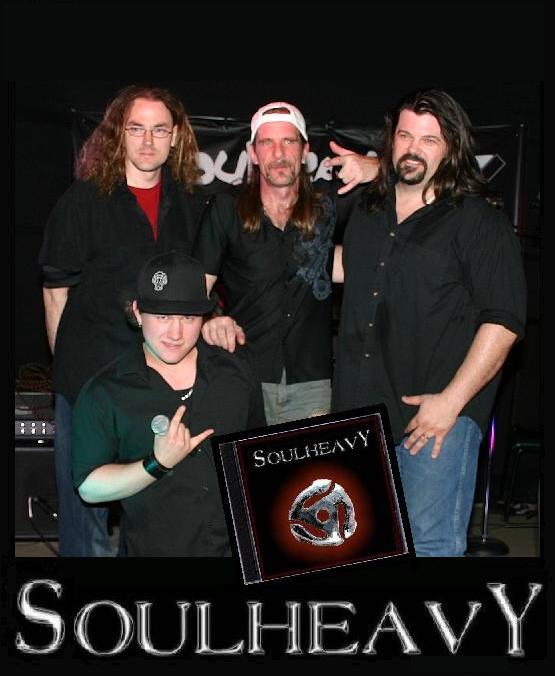 Soulheavy - Ryan (bass), Brian (drums), PJ (guitars), and in front, Corey (vocals)
G'day guys – thanks for taking the time out to talk to The Rockpit
Your debut album is great, and I found the sound to be really unique, combining elements of classic rock with some post grungey sounds. What influences go into the mix to make Soulheavy sound the way you do?
Corey - My influences ultimately being classical music, have also been a bit of punk and alternative rock like Green Day, Our Lady Peace & Offspring
Ryan - My influences are Metallica's Cliff Burton, Iron Maiden's Steve Harris and Geddy Lee from Rush, just to mention a few
Brian - The 4 different personalities which create SoulheavY... I would like to add as well the influences on my part would be the blues and metal and rock combined...
PJ - I think the variety of each of our personal tastes blend Soulheavy as a whole and the outcome is what you hear. Bands try to find a sound and run with it… We just write and when we put it all together it's just magic. That's the SoulheavY chemistry!
The album has got quite a buzz working up about the band – how has the response been at home in Canada, and further afield?
Corey - Great response from overseas, but with Canada being stagnant as an outlet for Indie Rock, it is difficult to make a name for ones self.
PJ - I would have to agree with Corey, we have a bit of a response here in Canada and USA - strongest in California, but in most parts our draw has to be on foreign lands. UK, Japan, Australia, Greece, Germany and Sweden seem to be where the big buzz is strongest at this time
Brian - The response is great it is not only here in Canada but the UK, Australia and all over the world - that is awesome!
Ryan - We have been getting a lot of positive feed back and been played on many radio stations in North America not to mention the rest of the world.
There's plenty of talk online about your next step. One rumour was that you're remastering the 7 album tracks with Steve Negas, drummer from Saga. How did that come about and what's the plan for the remastered tracks?
Corey - Meeting Steve was a phenomenal experience and with his knowledge, we believe we can take our existing work and transform it into radio smashing hits.
PJ, Ryan and Brian - you are all seasoned players, having been gigging in bands for a few years now. How did you three get together, and how did you hook up with young gun Corey?
Corey - Funny story, Brian was at my cellular phone store purchasing a cell phone from me. I noticed the gloves and took a stab in the dark and asked Brian if he was a drummer, he said yeah and asked if I was into music. I told him I really liked to sing and had just recently left UWO for music. He then told me about a new band and he was recently looking for a singer. He asked if he could call me if the singer they chose didn't work out. I gave him my number never expecting to hear from him again. Two days later he called and we set up an audition and now here I am
Ryan - I saw an ad on their Facebook page that they were looking for a bass player. I was looking for a new project so I answered the ad and the rest is history
Brian - Just like Ryan except I filled out a short bio of my music career and sent contact info and I got a few bites but replied to PJ's and we hooked up and together Soulheavy was resurrected from PJ's past...the rest is rock n roll! As for Corey well that all came by chance... As Corey said, I was looking for a new cell phone, he was my salesperson, he hooked me up... then he asked if I was in a band (because of my long hair, drummer's half gloves and band hoody) and I told him I was. He told me he was a musician too, I said cool what do you play? Guitar he said yes n' no but I do sing... at that time I told him we were having auditions for singers, so I asked him for a contact number and two days after I called him up and asked him if he wanted to audition for us and the rest is rock n roll...
Corey's voice is full of power and emotion – quite unique, especially for his age. How did you all feel when you jammed together for the first time? Did it just gel instantly or did you have to spend some time evolving your styles together? Ryan - For me it was instant, all of our different styles worked together.
Corey – Yeah, it gelled instantly... for the most part. I wasn't used to singing rock and roll except for in my shower and my car but once the first song was written things just started to happen.
Brian – Man, it was an incredible first jam... Corey and I met at a local Timmies [Tim Horton's – Canadian coffee store chain – Editor] and then I took him to the jam studio and that day 'Alive n Kicking' was born, yeahhhhhhhhhhh!! He came armed with his laptop and started to write as we played for him to hear our style of music...
PJ - Like I had mentioned - it's just magic of the SoulheavY chemistry!
Corey's also a quite accomplished musician himself, fluent on piano and French horn and he even spent two years with the London Youth Symphony in Ontario. Does having a classically trained muso in the band gel well with the classic rock influences of the rest of the guys?
PJ - Sure! It's great! I think with his background we have a niche instead of 4 or 5 players that are influenced the same. Corey brings an edge and it works!
Corey – I'm not fluent on the piano [laughs], I kinda got bored and moved on…
Brian - I think that it does [gel well] and we all get along really well - when we rock out on stage it's awesome...
Ryan - Yes, It gives us a unique sound that can span from classic rock to more metal rock
Apart from Corey you all have what seems like wonderful family lives. Being a Dad myself, I know how important it is having that support behind you. How do you balance that with long stints away when you go out on the road?
PJ - Well for myself, being on the road for long stints is hard but that's part of being in a band, you can't have a band without personal sacrifices… and unfortunately one of them is time away from your loved ones. Commitment to anything of this magnitude requires sacrifices and for the most part family and friends know what goes along with being in a professional band. The support and sacrifices of our wives, girlfriends and families is the heart of our strength of this band and without them backing us up in all we do, we couldn't do what we love to do, which is being a member of SoulheavY.
Ryan - It is hard being away from our families but it gives us something to look forward to when we get home, and we still talk everyday whether it be by phone or internet.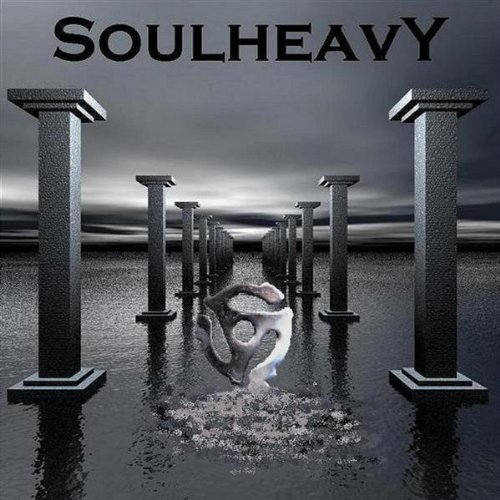 How does the dynamic within the band work – who writes the songs, books the gigs, designs the t-shirts, makes the tea?
Corey - PJ and now Ryan write Riffs, Brian adds the Drums and then Brian and I will get together to write lyrics. Brian knows where the T-Shirt designs are from.
Brian - Corey writes most of material on some songs then Corey and I will sit down and come up with lyrics that I had from my past or write and create new right on the spot, Corey and I write well together... PJ takes the gigs - well until we got our management team. The designs for our logo was done buy a buddy of mine from Florida: Chris Eisler from Armor Printing
Ryan - Well PJ and I will come up with a riff and Brian will put his drum beat to it then Brian and Corey will write some lyrics to it. Our management books the gigs, and PJ and Brian designed the shirts
You've described SoulheavY as "pure gut pounding Loud and Proud kick-ass in your face Rock & Roll" – that's a helluva statement to live up to. What can fans expect live from the band?
Corey - Exactly what they hear on the CD.
Ryan - Fans can expect a high energy live show with lots of stage presence and audience interaction
Brian - Like Ryan says a kick ass show with attitude and character...
PJ -- That quote came from me so you know my answer!
I believe you're planning a European and Japanese tour this year? What can you tell us about the plans for that?
PJ - The plans for us to tour are all in developmental stage… right now we have decided to build tour locations on the demographic areas that have our strongest buzz factor and go from there. SoulheavY is a band that is here for the long haul and we want to make sure we develop strengths in countries with a big demand to see us play live. As I see things right now, our focus will be definitely towards Europe and your side of the pond. Japan is something that will develop strongly over time… If Japan does not happen this year for us we will focus on that goal to tour there next year.
I also read on your Myspace page that you plan to release a SoulheavY DVD in 2010 – will this be a live show, or…?
Ryan - A collection of live shows…
PJ - The DVD is my brainstorm idea… I believe that our fans are a big part of the success and quick growth in numbers and our buzz factor. So I thought why don't we make a compilation DVD of our live shows throughout the year 2010 to show SoulheavY where we shine the best – LIVE!!
Being gigging musos, do you get much time to get out and see other live bands yourselves, or are you always working?
Ryan – No, we get to see other live shows from time to time.
PJ – No, Soulheavy is a fulltime job on my part and as a member of the band. If not playing or rehearsals I do the Administrative side of things along with our promoter and Manager to build Soulheavy to where it has become today. On occasion I may get out to watch a live act in my home town but by most part my focus is our band.
Corey - I work pretty much full time and have a hard time to get out and see live shows
What shows have you seen recently which have really impressed you?
Corey - The last one I saw was the French Horn concert at UWO. Phenomenal! [laughs]
PJ - Well, to be quite frank not too many of the NEWer bands impress me but we recently opened and supported for the band Moxy not too long ago. And for seasoned players like Moxy they really rocked the house! It was a Great Show all around.
Ryan - My most recent show that I have seen was Kiss Alive35 tour.
What new music are you guys listening to at the moment?
PJ - I am hooked on DC4 out of California and Black Stone Cherry from Kentucky.
We're big fans of Black Stone Cherry as well, I love that mix they get of southern rock groove with some really powerful riffs and vocals
Corey - Them Crooked Vultures, big fan!
Brian - Death Magnetic Metallica...old school metal like Iron Maiden and kinda like all 70-80's metal...
Ryan - At the moment Kings of Leon and Cage the Elephant
You mentioned you are encouraging your fans to let you know directly where they want you to tour – how should they go about doing this?
Where can your fans find out more about the band and buy SoulheavY merch and music?
Ryan - From our website or myspace page they both have links to iTune and other sites.
Sex, drugs, or rock n' roll?
Corey - Ill take all three please haha
Ryan - Rock n' Roll!!!
And finally, the question we ask all our interviewees – what is the meaning of life?
PJ - To do what you love to do and be loved for doing it!
Corey - To seek enlightenment my brother (I'm a big fan of Buddhism)
Brian - The meaning of life to me is to play it proud and rock it loud and live your life to the fullest and don't let anyone take away your dreams...
Ryan - Find something you love to do and do it everyday and the rest will fall into place.
SoulheavY have a unique sound, and are a great bunch of guys with a strong work ethic and an ever-growing legion of fans – contact the band directly if you can help them get a record deal for worldwide distribution, but hurry – they are unlikely to be available for long!
SoulheavY's debut album is from iTunes, Amazon, Shockhound, FM.com and Emusic